Just In Time
I finally finished my Christmas stocking. There were a few problems with the pattern or maybe with my interpretation of the pattern. I ended up ripping out the foot part and making my own modifications.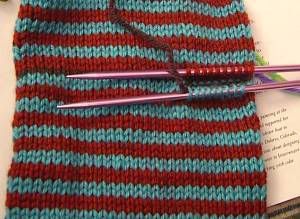 This pattern called for putting in a scrap piece of yarn for the heal then later going back pulling out scrap yarn picking up the stitches to knit the heal. This part went well. I just did it loop by loop making sure not to loose any of the stitches.
Overall I like the end result, and am so happy to move onto my Norwegian Hat.
HE HE HE HO HO HO.
Happy Holidays!
I am over at
Alpaca Rose
.