Giant Jester Stocking
Hello, I am knitting the Giant Jester stocking pattern from the book Christmas Stockings by Interweave Press. I think the pattern is also in their magazine that is out now called Interweave Knits Holiday Gifts.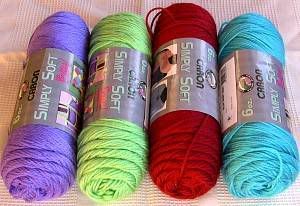 I chose Caron Simply Soft yarn in colors: Grape 9610, Limelight 9607, Autumn Red 9730 & Blue Mint 9608.
Here is my progress so far. If you look closely you can see the strip of waste yarn that was knit in where I will be putting the heel. I am at the part where I am decreasing for the toe. Soon I will switch back to the Purple & Green to complete the toe.
You can find me over at
Alpaca Rose
.